Can We Write About Race? Navigating Racial Discourse in Our Singapore Stories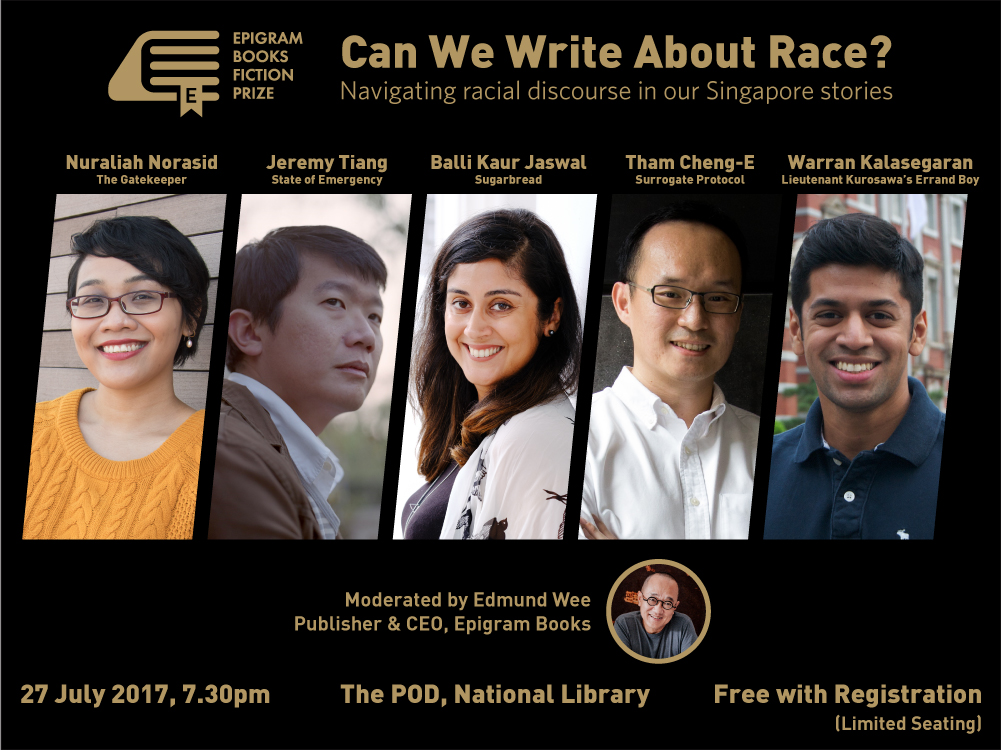 From mishandling accents to questionable questions on children's book covers to the very public online heated exchanges, conversations on race seem pretty tricky to broach in our multi-ethnic island state. But race relations remain very much part of our Singapore stories. So how do we talk about race (or not talk about it) in the books we write?
Moderated by Edmund Wee, Publisher and CEO of Epigram Books, we are expecting a thoroughly lively discussion involving our panel of Epigram Books Fiction Prize 2016 published novelists Nuraliah Norasid (The Gatekeeper), Tham Cheng-E (Surrogate Protocol), Balli Kaur Jaswal (Sugarbread), Jeremy Tiang (State of Emergency) and Warran Kalasegaran (Lieutenant Kurosawa's Errand Boy.
Established in 2015, the Epigram Books Fiction Prize promotes contemporary Singapore creative writing and rewards excellence in Singapore literature. The annual prize is Singapore's richest literary award, offering S$25,000 to the winner and S$5,000 to three shortlisted finalists.
The Prize is open to Singaporeans, permanent residents or Singapore-born authors with full-length, original and unpublished novel-length manuscripts written in the English language.